Description
Direct OEM replacement
Made from the highest quality Aircraft quality T6061 billet aluminium construction
Fully compatible with OEM electronics
Fully serviceable piston
Capable to 600HP (with uprated spring kit)
Utilising world leading springs for more precise operation and consistency
All internal and external components have been made in the UK
Pistons use heat stabilised Viton O-rings
Lubricated with high temperature Mobil1 grease
Fully serviceable and rebuildable in minutes
Unlike other valves on the market, ours produce no check engine lights (EML)
Improved dynamic throttle response
Consistent turbo boost & reduced turbo lag
Covered by the Forge Lifetime Warranty*

Forge Motorsport were the OG's of this original groundbreaking design, and we still lead the marketplace with customer service and after care with this innovative blow off valve – Often copied never bettered
This is our piston version of our very popular solenoid driven valve for the 2013-on VAG 1.8 TSI/TFSI engine (US codes CPKA and CPRA) and 2.0 TSI/TFSI engine (Euro code CNTA, CHHA, CHHB, CHHC, CZPA, CJXB and CJXC;US codes CPLA and CPPA) including Golf MK7 R. This valve is a full replacement atmospheric blow-off valve (i.e. noisy) that integrates seamlessly with the OEM electronics and results in no detriment in performance, and absolutely NO fault codes or check engine lights, which isn't something that can be said of our competition!
Not only do you get the famous Forge blow off valve sound but this valve also increases the throttle response during gear changes by reducing turbo lag. It has been designed to help the turbocharger maintain its rotational speed ready for when you accelerate, whilst also taking the strain away from the impeller. Without removing this stress from your turbo, it could cause premature failure, especially on tuned engines and modified vehicles.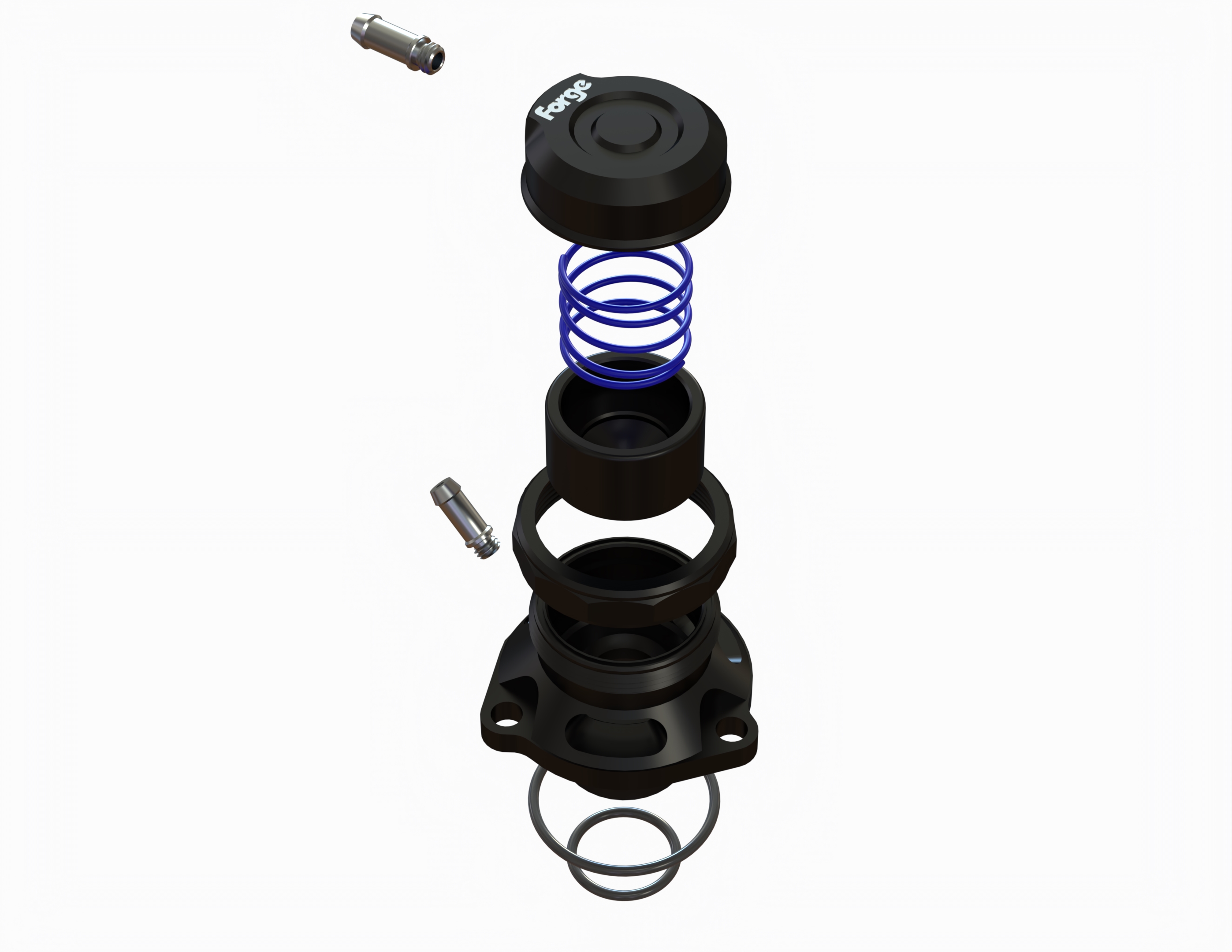 Like our full replacement recirculating valve option, this valve is fully engineered to remedy the failure issues experienced with the OEM solenoid valves when their diaphragm may rupture which results in a boost leak. The later revision OEM valves have a longer lift but ultimately the plastic brittles and in extreme circumstances, parts of the plastic can break off. Our valve uses full billet alloy construction with a piston based internal design that provides for significantly improved reliability over the OEM valves along with lightning-fast response. It has also been proven in cars running over 600bhp!
This valve has a very short overall installed height, which enables fitment of this atmospheric valve into the tight space between the turbo and the inlet hose from the airfilter, older larger valves and sandwich plates will not fit this engine.
⭐ Great product! Fits perfect and sounds beautiful! 10/10 ⭐
⭐ Fitted the blow of valve today! Works and sounds perfect, not to mention the great customer service to make sure I ordered the correct one ⭐
⭐ Easy installation and sounds fantastic! Money well spent ⭐

In The Box:
1 x FMDVMK7A Valve
1 x Wiring Harness
1 x Solenoid, Bracket, and Screws
1 x Uprated Blue Spring
10 x Cable Ties
1 x 1000mm of 4mm Vacuum Tube
1 x 5mm T Piece
1 x Instructions
1 x Forge Keyring and Sticker