Description
Direct OEM replacement
Made from the highest quality Aircraft quality T6061 billet aluminium construction
Fully compatible with OEM electronics
Fully serviceable piston
Capable to 600HP (with uprated spring kit)
Utilising world leading springs for more precise operation and consistency
All internal and external components have been made in the UK
Pistons use heat stabilised Viton O-rings
Lubricated with high temperature Mobil1 grease
Fully serviceable and rebuildable in minutes
Unlike other valves on the market, ours produce no check engine lights (EML)
Improved dynamic throttle response
Consistent turbo boost & reduced turbo lag
Covered by the Forge Lifetime Warranty*

This valve is designed to fit the FSI and TSI engines of the VAG group (VW, Audi, Seat, Skoda) listed below, including the 2011-2013 2.0l engine using the IHI Turbo.
1.4T (with additional fitting kit FMBGFK3)
1.8T
2.0T
Note: This will ONLY fit the 1.4 turbo engines up to early 2013, where the turbo is mounted at the front of the engine bay. It will not fit engine codes CMBA & CXSB. We designed the slots in the body to cover a large surface area, allowing for a quick release of air, resulting in a unique sounding dumpvalve.
This upgrade/replacement for your original equipment valve integrates seamlessly with the OEM electronics. Using a wiring harness and solenoid, both tested for each specific application, you can confidentially fit a Forge part knowing that there will be no fault codes, check engine lights, or performance issues with the vehicle!
Another particularly unique feature of this product is the included intake manifold tap used to source a vacuum reference for the operation of the valve. This piece also has two other available provisions from which an intake manifold reference can be taken. These extra manifold references can be used for a boost gauge signal, and even a water/meth injection trigger where applicable.

The OEM valve uses a rubber diaphragm and a plastic housing. Both of these materials, but especially the rubber is prone to failure. The rubber can stiffen and go brittle due to the heat from the engine, resulting in diaphragm splitting and boost leak.
Our valve uses full billet alloy construction with a piston based internal design, meaning the issues with the OEM can never happen with ours! To give you even more peace of mind, we made the internals of our valve serviceable. We recommend doing this every 3 years or 20,000 miles, whichever comes first. However, if you don't want to service your valve yourself you can order the kit and ship your valve back to us and we will carry out the service free of charge! Simply contact us to arrange the service!
The OEM valve internals can also fail if you have your vehicle mapped as the rubber diaphragm is not always strong enough to cope with the increased boost pressure. We build our valves with a spring matched to the original pressure of the car, but include in the kit a spring strong enough to cope with a stage one remap. If you decide to increase the power even more you can guarantee the reliability of our valve by using this spring tuning kit!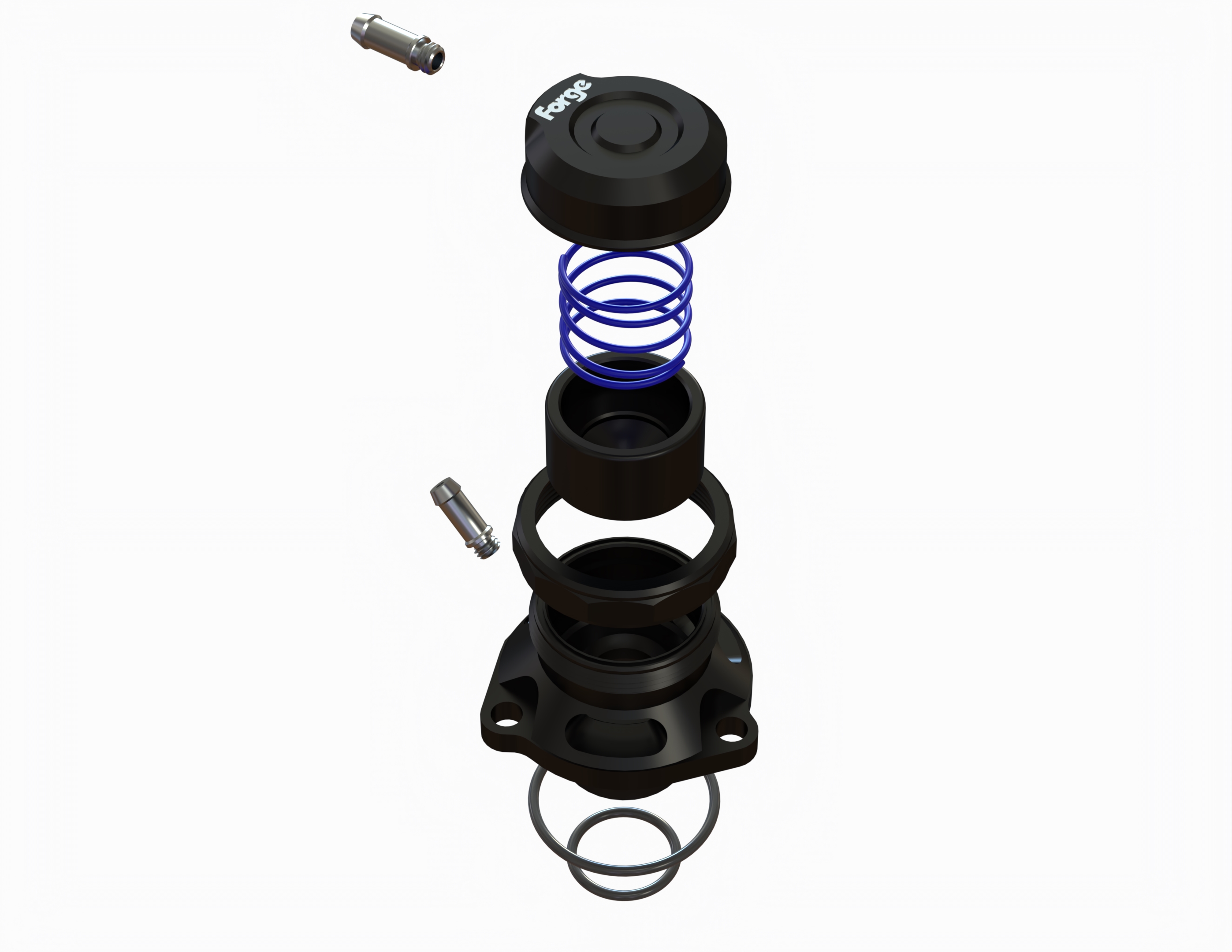 This valve was designed by our highly skilled engineers using CAD software to ensure that it will fit with every listed compatible vehicle with ease!
It is particularly well suited to the B7 and B8 chassis Audi A4 and A5 with the 2.0T engine. The valve mounting location on these vehicles is positioned particularly close to the frame rail of the chassis. Compared to competitors our valve has a much shorter overall installed height.
The OEM part numbers we have replaced with our valve include:
06H145710B
06H145710C
06H145710D
06H145710F
06H145710G
However, this original equipment valve is used over a multitude of vehicles. Please see our compatible vehicle list to confirm.
⭐ Amazing product very well made. Don't spend your money anywhere else the noise this gives off is fantastic. Can't recommend enough ⭐
⭐ Easy to install, sounds great instructions easy to follow. Would highly recommend ⭐
⭐ Great quality product installed on a 2008 Audi TTS. Easy install, directions for install and packaging is top quality, noise is produces is 2nd to none ⭐