Description
Powerflex Race Series Front Wishbone Rear Bush Anti-Lift & Caster Offset to fit the following:
Ford Kuga Models, Kuga MK2 (2012-2019)
Ford Transit, Transit Connect MK2 – (2013 -)
Ford Focus Models, Focus Mk3 inc ST and RS (2011-2018), Focus Mk3
Ford Focus Models, Focus Mk3 inc ST and RS (2011-2018), Focus MK3 RS
Ford Focus Models, Focus Mk3 inc ST and RS (2011-2018), Focus Mk3 ST
Notes: PFF19-1802GBLK is a CNC machined aluminium mount and polyurethane bush to provide 1 degree of positive caster offset and 7.5mm anti-lift properties. Focus ST and RS owners are all too familiar with the commonly reported torque steer effect of their vehicles. Our new part provides anti-lift and caster offset to improve handling characteristics and has been proven and tested on road and track.PFF19-1802GBLKadds 1 degree of caster offset for a greater tyre contact area, which, in turn, provides greater feedback information to the driver, improves traction and offers greater stability. The increased caster angle produces more weight and detail to the steering which is vital to driver confidence, allowing your Focus to corner with more urgency, significantly improved grip and reduced understeer.Starting out as a 6082 T6 (heat treated) solid billet of aluminium, our CNC machining centre and 4th axis shape the material into our unique design which is then hard black anodized, followed by an engraving process. By machining from a solid billet, we ensure our part has the best strength to weight ratio and looks great too. PFF19-1802G ships with CNC machined stainless steel-steel thrust washers to enhance braking stability.In our Black Shore 80A Black Series material, PFF19-1802G is 85% stiffer than the original rubber bush for those looking for a Track/Competition option, whilst our Purple Shore 95A Road Series material is 10% stiffer than the original bush.
Please Note: The prices shown on our website are for the quantity required for the vehicle. ie – if the Quantity Required is 4 and the Quantity in Pack is 2, you will receive 2 Packs.
Quantity Required: 2
Quantity in Pack: 2
OEM Text: OEM Part Number: 1866070 / F1F1-3A423-AAA / 1866072 / F1F1-3A424-BAA
OEM Part Number: 2172992 / F1F1-3A-423-AAB / 2176249 / F1F1-3A-424-AAB
OEM Part Number: 2173539 / BV61-3A423-AAD / 2173541 / BV61-3A424-AAD
Diagram Reference: 2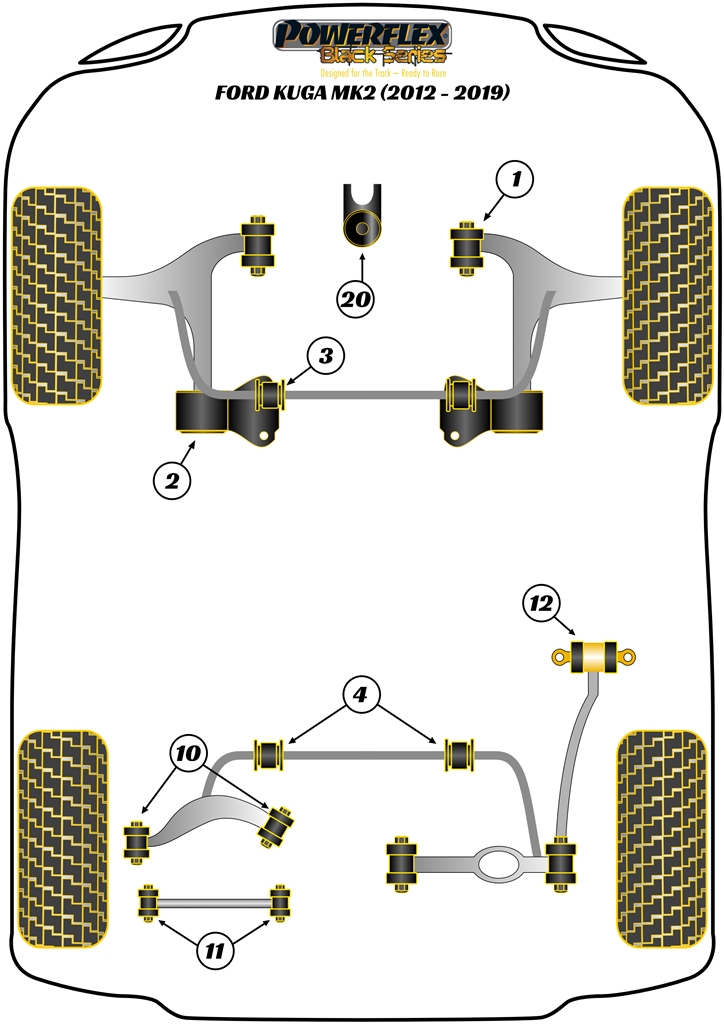 MG Auto Motorsports is an authorised dealer for POWERFLEX. Buy from us to ensure that you are purchasing a genuine POWERFLEX product.
POWERFLEX Race Series
Black Series Developed for Race, Rally & Circuit
>> 80% More Resistant
>> 25% Stiffer
>> Engineered to be the Best!
The most precise and accurate alignment for your chassis!
For the Ultimate in Bush Performance
POWERFLEX Black Series bushes are manufactured using a 95 Shore A Compound to provide maximum control of chassis geometry
If you requirements are purely for the ultimate in hadling and chassis performance then the Black Series is for you.
---
POWERFLEX Information
EPTG Ltd (European Polyurethane Technologies Group) was formed in the UK in 1996 to take advantage of the significant advances made in the development of polyurethane in recent years.
The company has wide experience of automotive suspension and chassis systems and combining these design skills with advanced polyurethane manufacturing techniques led to the development of the wide range of high performance automotive polyurethane components now known the world over by the product name POWERFLEX.
The company operates in a self-contained state of the art factory, manufacturing everything in-house.
The stainless steel components are machined on the latest computer controlled equipment to ensure perfect repeatability and quality.
The moulding and tooling, design and manufacturing is carried out within the factory ensuring very rapid response time to special projects and complete communication between development, prototyping, testing and manufacturing departments. Component manufacturing is carried out with the latest automatic processing equipment ensuring 100% right first time quality. Testing of new components is carried out both on the vehicle and on test rigs.
POWERFLEX were selected to receive a Queen's Award for Enterprise International Trade 2013 and in December 2014 certified to ISO 9001 as a manufacturer underlining their quality and stature as a global exporter.
For those unfamiliar with this it is an international standard to show that the company operates to a system of quality procedures.
For smaller companies this can be straightforward but for a company of our size with complex manufacturing and over 2500 part numbers, it is a big achievement especially as this was done with no major changes to our rigorous quality procedures.
We were awarded this on our first assessment inspection with no changes or recommendations to the way the business operates. This is a testament to the way we run the business and especially the people within it.
All of these factors combined make POWERFLEX the number one selling performance bushes in Europe.
For more information about POWERFLEX, please visit their website at https://www.powerflex.co.uk/