Description
Powerflex Road Series Dual-Mount Rear Differential Bracket to fit the following:
BMW 2 Series, F87 M2 Coupe (2015 on)
BMW 3 Series, F30, F31, F34, F80 (2011 – 2018), F80 M3
BMW 4 Series, F32, F33, F36, F82, F83 (2013 on), F82, F83 M4 (2014 -)
Notes: Supplied complete with M14 bolt, thread locker and Powerflex keyring With the newerF8xM2/M3/M4's making big power and having superb chassis straight from the showroom, it's no wonder they're often found at the most serious of track-days or at tuning shops across the globe.Unfortunately, the power that makes these cars so fun to drive eventually has an impact on the vehicle components, most notably the rear differential bushes.Despite having the provision for two mounting bushes on the factory tubular subframe, BMW opts to use only a single offset bush to mount the diff bracket to the subframe. This essentially creates a pivot point for the diff under torque loading, especially if the 4x front diff bushes are worn and softened.With hard launch starts and sudden and frequent on-off throttle changes, this puts the single rear OE rubber bush through extreme torsional and directional forces, resulting in accelerated ageing with failure often seen at around the 30-40,000 mile mark and an unsettled and potentially clunky rear-end.We are proud to release a high-performance solution to this problem, giving you the tools to re-establish rear-end stability on yourF8xM2/M3/M4.PFR5-4030 Dual Mount Diff Bracketis made from our in-house CNC machined6082 High-Tensile Aluminiumand is designed to utilise the secondary mounting position on the OE subframe. With the addition of a second bush, this prevents the diff from twisting under load, providing benefits such as:Reduced drivetrain movementImproved throttle responseA more controlled and consistent on-off throttle chassis response.Improved tyre-to-road power transfer reducing wheel hopReduced strain on fitted bushesThe corrosion-resistantSatin Black Anodised Aluminium Bracketis optimised for high stress and deflection whilst withstanding high torque loads butis designed to function equallyon standard or modified vehicleswith either a single OE bush or dual aftermarket bushes.Although the bracket can be fitted without the need to remove the subframe from the vehicle completely, we would naturally recommend combiningPowerflexproducts by using our already hugely popular 80A durometerPFR5-4026Rear Diff Mounting Bushfor both subframe rear mounting positions with the addition of ourPFR5-4025Rear Diff Front Mounting Bushesfor the front for the ultimate in differential control and a lasting fast-road or track solution.
Please Note: The prices shown on our website are for the quantity required for the vehicle. ie – if the Quantity Required is 4 and the Quantity in Pack is 2, you will receive 2 Packs.
Quantity Required: 1
Quantity in Pack: 1
OEM Text: OEM Part Number: 33172284775
Diagram Reference: 30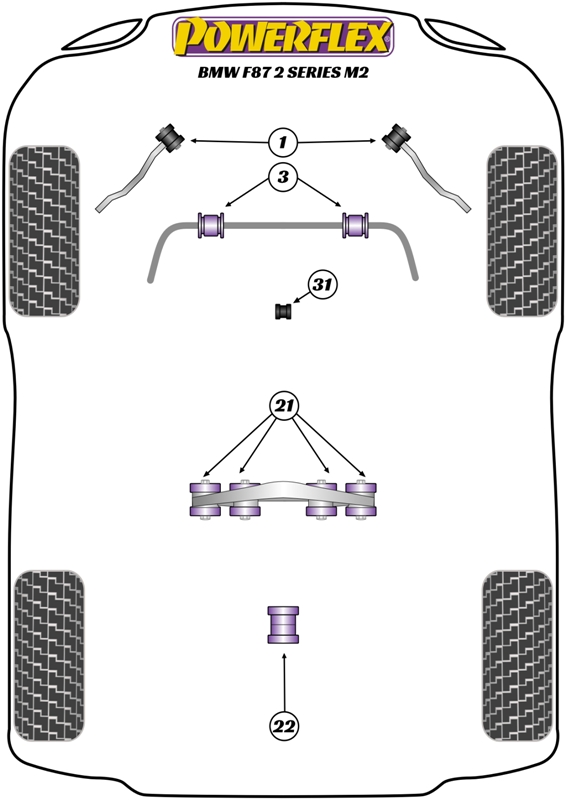 MG Auto Motorsports is an authorised dealer for POWERFLEX. Buy from us to ensure that you are purchasing a genuine POWERFLEX product.
POWERFLEX Road Series
Does your vehicle suffer from Uneven Tyre Wear, Braking Instability or Imprecise Handling?
If so, POWERFLEX Suspension Bushes are the solution for you!
POWERFLEX Suspension Bushes prolong tyre life, improve performance and increase the safety of your vehicle on the road
So don't settle for your standard rubber bushes, go POWERFLEX and improve your driving experience
---
POWERFLEX Information
EPTG Ltd (European Polyurethane Technologies Group) was formed in the UK in 1996 to take advantage of the significant advances made in the development of polyurethane in recent years.
The company has wide experience of automotive suspension and chassis systems and combining these design skills with advanced polyurethane manufacturing techniques led to the development of the wide range of high performance automotive polyurethane components now known the world over by the product name POWERFLEX.
The company operates in a self-contained state of the art factory, manufacturing everything in-house.
The stainless steel components are machined on the latest computer controlled equipment to ensure perfect repeatability and quality.
The moulding and tooling, design and manufacturing is carried out within the factory ensuring very rapid response time to special projects and complete communication between development, prototyping, testing and manufacturing departments. Component manufacturing is carried out with the latest automatic processing equipment ensuring 100% right first time quality. Testing of new components is carried out both on the vehicle and on test rigs.
POWERFLEX were selected to receive a Queen's Award for Enterprise International Trade 2013 and in December 2014 certified to ISO 9001 as a manufacturer underlining their quality and stature as a global exporter.
For those unfamiliar with this it is an international standard to show that the company operates to a system of quality procedures.
For smaller companies this can be straightforward but for a company of our size with complex manufacturing and over 2500 part numbers, it is a big achievement especially as this was done with no major changes to our rigorous quality procedures.
We were awarded this on our first assessment inspection with no changes or recommendations to the way the business operates. This is a testament to the way we run the business and especially the people within it.
All of these factors combined make POWERFLEX the number one selling performance bushes in Europe.
For more information about POWERFLEX, please visit their website at https://www.powerflex.co.uk/